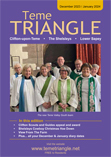 Welcome to Teme Triangle, the community news hub for Clifton upon Teme, The Shelsleys and Lower Sapey in Worcestershire.
Our printed magazine brings news, events and information free of charge to local residents each month. Here you can view it online.
Clifton-upon-Teme, the Shelsleys and Lower Sapey are remarkable rural communities in one of the most beautiful parts of the lower Teme Valley, on the Herefordshire/Worcestershire border, equidistant from Tenbury Wells, Bromyard and Worcester. Our picturesque buildings are steeped in history and our small, scattered villages offer a wide variety of events and activities to enjoy, as well as a warm network of community support.
Click here to contact the Teme Triangle editor or learn about the team