BBC CHILDREN IN NEED RICKSHAW CHALLENGE AT SHELSLEY
Last updated: Wednesday, 14th November 2018, 15:48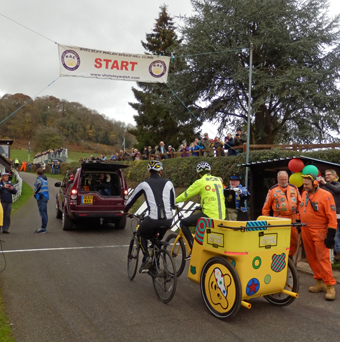 The BBC's One Show Rickshaw Challenge team visited Shelsley Walsh on their way from Calais to Manchester to raise money for BBC Children in Need.
The team of six young people supported by BBC Children in Need funded projects, riding the McLaren designed rickshaw, were accompanied by The One Show's Matt Baker who pedalled alongside them as they stopped off at Shelsley Walsh after an overnight stop in Malvern. They were welcomed by local residents and children from Clifton Primary School and other local schools who turned out to support the team as they went up the world's oldest motor sport venue.
Team Rickshaw took on the journey for the eighth year in a bid to raise money for BBC Children in Need and help make a difference to young lives. Over the week The One Show on the BBC featured special surprises for the young riders, and a chance to hear directly from them about the experiences that have led them to taking on the Rickshaw Challenge. The challenge ended during BBC Children in Need's Appeal show, with viewers tuning in to the show to follow the team's journey across the UK every day.