BISHOP OF WORCESTER'S TEME VALLEY TALK
Last updated: Thursday, 12th October 2017, 15:50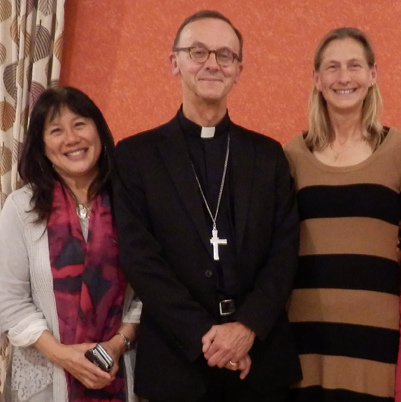 The Bishop of Worcester, the Rt Rev Dr John Inge, was the guest speaker on 'The Challenges of Life' in Shelsley Beauchamp village hall.
In the first of a series of talks by prominent local people concerning their faith entitled 'Up Close and Personal', organised by the local Churches Together group, the Bishop spoke frankly about his role and his personal life in front of an audience of 60 people.
A recording of the Bishop's interview with Jerry Johns can be heard via the following link:
https://soundcloud.com/diocese-worcester/up-close-and-personal-interview-with-bishop-john
​Pictured with the Bishop (above right) are organisers Hilary Higton and Jane Roberts.