COUNCIL ACTION OVER BIKE RIDE GIVES HOPE TO RESIDENTS
Last updated: Thursday, 20th April 2017, 12:37
Local residents and businesses that fear disruption on Sunday September 24th whilst a Birmingham bike ride takes place on our local roads, are more hopeful this week, as Worcestershire County Council took robust action.
The event, called Velo Birmingham, is being organised by a marketing company, CSM, on behalf of Birmingham City Council. It has already signed up 15,000 cyclists to ride from Birmingham city centre to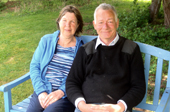 Bromyard and back in a loop. Charles and Pat Barratt (right) whose daughter is getting married that weekend said "It's not that we are against bike rides but it seems to have been poorly organised with no communication or consultation".
Significant parts of Worcestershire and Herefordshire are included, and organisers have promised competitors the roads will be closed to all other traffic for six hours on the day.
This would seriously inconvenience farmers with stock to feed, or potatoes to harvest, pubs, clubs and other businesses who would be forced to close and individuals who need to use the roads.
For more information or to see the route visit www.velobirmingham.com