'JAN THE MILK' WINS 'REWARD A WARRIOR' ACCOLADE
Last updated: Wednesday, 10th February 2021, 10:06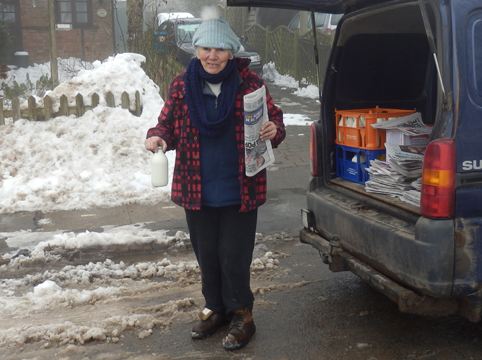 Jan 'The Milk' Young has been named as the senior winner of the Worcester Warriors 'Reward a Warrior' campaign to recognise local heroes for their contribution to local communities during the Covid-19 pandemic. A true Community Warrior, Jan has been delivering milk, newspapers and other vital supplies to over 800 households in the Teme Valley seven days a week in all weather.
Most of Jan's regular customers were amazed and delighted to get their milk and newspapers delivered to their door every day of the severe weather except one when blizzard conditions effectively closed most roads in the area. Jan and her milk round partner Phil Gray managed their daily 60 mile round trip on every other day, including Sunday.
"We've only missed two days in 30 years," says Jan proudly. She maintains her round seven days a week to over 800 houses in the Broadheath, Clifton and Shelsleys area as well as many schools, always keeping an eye on the elderly and the vulnerable in all weather.
Growing concern about plastic pollution has brought an unexpected bonus to Jan in the form of several new customers who prefer to buy their milk in glass bottles instead of plastic containers.
Local residents have also expressed gratitude to local farmers and others who worked tirelessly to clear local roads and lanes blocked with snowdrifts.