LOCAL WOMEN RECOGNISED WITH HIGH SHERIFF'S AWARDS
Last updated: Friday, 29th June 2018, 15:46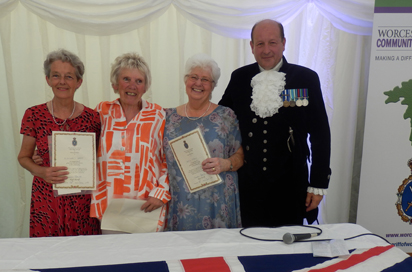 Three local women received High Sheriff's Awards for service to the local community at a reception in the Shelsleys in aid of The Sheriff's Fund (Worcestershire Community Foundation).
Beryl Robson and Rosemary Hart, both residents of the Shelsleys, and Janet Young of Tenbury Wells, better known as 'Jan The Milk' to her many customers in the Teme Valley, were each presented with special certificates by the High Sheriff of Worcestershire, Cassian Roberts.
The presentations took place at a civic reception for county mayors and consorts, local government chairmen, neighbouring high sheriffs, police and fire brigade representatives and prominent members of the judiciary at the home of Cassian and Jane Roberts in Shelsley Beauchamp.