NEW TEAM AT CLIFTON NURSERY
Last updated: Monday, 24th August 2015, 09:45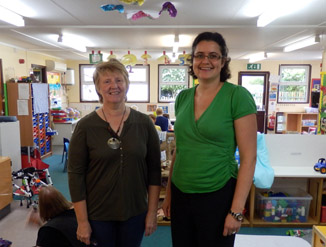 Clifton Early Years Centre has a new team at the helm this month, following the appointment of Manager Andrea Brittain who arrives from an Ofsted-rated 'outstanding' nursery in Hereford.
Andrea, who also has seven years experience as an NVQ assessor in childcare says she is looking forward to "rolling up my sleeves and getting stuck in".
Chair of the Clifton nursery trustees, Wendy Gibson, said she is delighted with Andrea's appointment. "We have a first class facility here for working parents," she added. "We are the only nursery in the Teme Valley area offering child care from three months to five years from 7.30am until 6pm all year round. And we not only give employment to local people; our opening hours also cater for those who commute to work."
As well as its own substantial outside play space, the nursery makes use of Clifton's facilities with children visiting the excellent recreation ground, the church and sometimes even the local shop "It is important for the children to understand about the values of our community" says Wendy.
The Clifton nursery has a capacity for up to 40 children at any one time. "We currently have a few vacancies, and welcome enquiries," she says. "Our close working relationships with neighbouring Clifton Primary as well as other schools in the area mean we can effectively prepare children for their transition in to full-time education – a huge event for any child."