SHELSLEYS' AUTHOR'S CHRISTMAS CHILDREN'S BOOK
Last updated: Tuesday, 29th November 2016, 17:10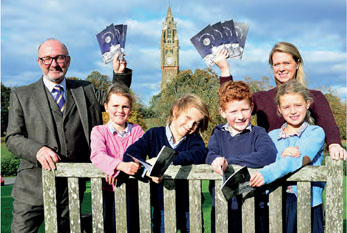 Shelsleys' resident Andy Griffee makes his debut as an author this Christmas having penned an adventure story in aid of his children's former school. The Abberley Space Rocket was inspired by a photo that Andy took under the landmark Abberley Tower last New Year's Eve.
"We were at the wedding party of Mary Duckham, held in the grounds of Abberley Hall School, when we assembled at midnight beneath the clock tower to see in the New Year and watch the fireworks," says Andy. "A white mist hung around the base of the tower in an almost magical way, and the idea for 'The Abberley Space Rocket' came to me. Initially I wrote the story as a memento for Mary, and thought that would be an end of it. She suggested illustrating it (she is an accomplished artist), and using it to fundraise for the Abberley Hall Foundation's Centenary Fund this year."
The book, which costs £5 has been published by Orphans Press in Leominster who are the long-time printers of our own Teme Triangle, and is aimed at 4-5 year olds. Profits will go towards bursaries, educational projects and the upkeep of the school's historic buildings, including the clock tower itself. "Our children attended the school and when I first retired I spent a very happy term teaching there, and of course, living in Shelsley Kings the clock tower chimes have been part of our everyday soundscape," said Andy. The Abberley Space Rocket is available from local shops or from Abberley Hall School price £5.